Package Disabler lets you disable any unwanted packages that come pre-installed/ installed with your phone.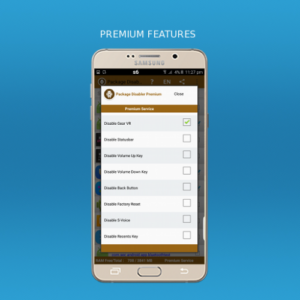 For samsung device please purchase _https://play.google.com/store/apps/details?id=com.elmklmsamsung.batteryaddon
** No Rooting required **
** You will have to remove all google accounts temporarily to activate this app then you can add back your accounts**
** You will need to connect your device to PC once and run a command as listed below**
** Uninstall within few hours to get automatic refund, if you are not happy with the app**
HOW to activate this APP
1) Remove all accounts from your device. Android settings->Accounts
2) Go to android settings on your device and enable "USB Debugging"
3) Connect your device to the PC with USB cable and open CMD prompt and run this command
adb shell dpm set-device-owner com.pdp.deviceowner/.receivers.AdminReceiver
NOTE: If you need detail instructions please check _http://www.packagedisabler.com/owner-app/
Package Disabler lets you disable any unwanted packages that come pre-installed/ installed with your phone. Simply one click on the package that you want to disable, will disable the package. Disabled application / package will not be uninstalled or updated using google play or any other means. So this app can be used for blocking apps (e.g. Parental Controls) or business use cases, you could even disable google play store etc… without rooting the phone. This app also provides password / uninstall protection to avoid misuse.
Package Disabler provides an export/ import functionality to backup all disabled packages on your external storage which you can restore at any time.
Using the exported package list you can swiftly get rid of all bloatware after installing a new ROM or Factory reset. When wiping your phone's data, you can export your package list to import it on your new ROM.
Full version features
* Disabling and enabling any packages or apps unlimited
* One click bloatware removal
* Export your disabled list to the external storage to import them later
* Batch operation to enable all disabled packages
* Filter to show all disabled packages
* Uninstall / password protection
* Filter to show all installed apps
* Filter to show all system packages
* Quickly find apps using the search functionality
Notes
* If you have issues uninstalling apps, try Settings –> Security –> Device administrators, uncheck "package disabler admin".
Permission:
— This application requires Device Administrator permission [android.permission.BIND_DEVICE_ADMIN]
★ Untouched Paid apk with Original Hash Signature
★ Certificate MD5 digest: d7a9ae6d05121f712fd563b08ce62336
★ No changes were applied
➡ Languages: Full Multi Languages
➡ CPU architectures: arm64-v8a, armeabi, armeabi-v7a, mips, mips64, x86, x86_64
➡ Screen DPIs: 120dpi, 160dpi, 240dpi, 320dpi, 480dpi, 640dpi
What's New:
No changelog
This app has no advertisements
Screenshots
Downloads
Package Disabler Pro (Owner) v13.5 build 105 [Paid] APK / Mirror
Older Version
Package Disabler Pro (Owner) v13.0 build 100 [Paid] APK / Mirror
Package Disabler Pro (Owner) v12.9 build 99 [Paid] APK / Mirror