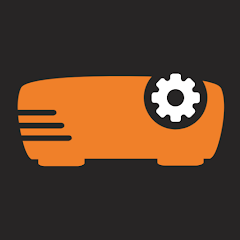 Projectivy Launcher
Projectivy Launcher is an alternative launcher for Android TV, tailored for your TVs and projectors needs : smooth, neat, customizable and bundled with unique features. It's Projectivy Tools on steroids !
Features:
– No Ads
– Shortcuts to change input source (HDMI 1/2/3, AV) and onscreen menu popup
– Auto start directly to any external input or installed app
– Parental control to prevent HDMI/app usage on certain periods of the day
– Idle detection to shutdown/standby your device
– Sleeck design : dynamic colors (à la Material You), smooth animations, random wallpaper…
– IU customization (apps hiding/reordering, custom sections, sizes, transparency, wallpaper…)
– Configure multiple display profiles and apply them on demand or when input changes
– Calibrate display with advanced settings and dedicated calibration patterns (standard, 4K, HDR, Dolby Vision, judder…)
– Ability to override stock launcher
– Zoom/Unzoom video image
– Show device details
– Shortcuts to some special engineering menus and apps, if available (ex: Mediatek, AmLogic, Xiaomi, FengOS…)
– Show mobile apps (not dedicated to Android Tv) that don't appear on stock launcher
– Force UI to 4K [ROOT]
– Freeze (disable) stock apps [ROOT]
– Freeze (disable) stock launcher to replace with another one [ROOT]
– Ability to override custom props (ie: enable adb…) [ROOT]
– Decrease Input Lag [ROOT]
What's new:
– Fixed wrong statusbar setting description
– Fixed wrong checkbox/seekbar color in settings
– Fixed crashes with shortcuts
– Improved channel programs error loading messages
– Fixed crash when dismissing some notifications
– Fixed crash when network capabitities changed
– Improved left headers : they are not open after a repeated key press anymore (eg: long pressing the left arrow will stop to 1st card. Another keypress toward left is required to open the headers)
– Fixed a few channels visibilty
– Added : long press on the left header of a channel category will start the associated app
– Added : automatic fallback on HTTPS URLs if channel thumbs link to (unsupported) HTTP resources
– Fixed Vietnamese small caps
– Fixed home button action when Projectivy is defined as the "real" launcher
– Added : open Android settings when long pressing the statusbar setting icon
– Workaround Skyshowtime missing banner
Mod Info:
● Premium Feature Unlock.
● A Skip App Introduction.
● Analytics / Crashlytics Removed / Disabled.
● Receivers and Services Removed / Disabled.
● Google Play Store Install Package Removed / Disabled.
● In-App Billing Service Removed / Disabled.
● Play Services, Transport, Firebase Properties Removed.
● All Unnecessary Garbage Folder & File Removed.
● Optimized PNG Save To 330 Kb.
● Optimized JPG Save To 381 Kb.
● Re-Compressed Classes.dex & Library.
● Optimized Graphics / Zipalign.
● Removed Debug Information (Source, Line, Param, Prologue, Local).
● Mod Apk Size 7.51 Mb.
Screenshots
Downloads
Older Version