[ez-toc]
RE Equalizer FX is a great application for tweaking and editing to create a more perfect sound.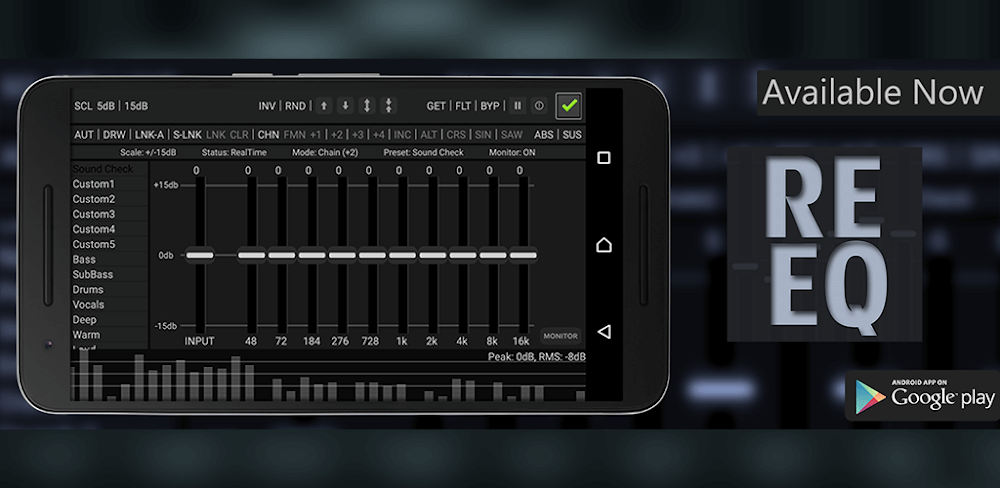 Introduction
RE Equalizer FX is a versatile audio application designed to improve the listening experience on mobile devices. It offers a wide range of features and tools that allow users to customize and enhance the sound quality according to their preferences. Whether you're an audiophile seeking precise control over audio settings or a casual listener looking to optimize your device's sound output, RE Equalizer FX provides an intuitive and powerful solution.
Intuitive User Interface
RE Equalizer FX boasts a user-friendly interface that allows users to navigate effortlessly through its various features. The intuitive layout ensures that even those new to audio equalization can easily access and adjust the sound settings. With its straightforward controls and visually appealing design, the application offers a seamless user experience.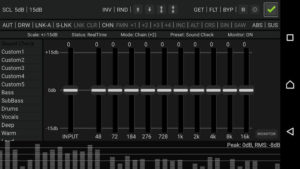 Customizable Sound Equalization
One of the key features of RE Equalizer FX is its comprehensive sound equalization capabilities. The application provides a range of adjustable equalizer bands that enable users to fine-tune audio frequencies to their liking. By adjusting these bands, users can enhance specific aspects of the sound, such as bass, treble, midrange, and more. This level of customization empowers users to tailor the audio output to suit their unique preferences and the characteristics of their headphones or speakers.
Presets and Profiles
For those who prefer a more simplified approach, RE Equalizer FX offers a collection of pre-configured sound presets. These presets are optimized for various music genres, audio formats, and environments, allowing users to quickly enhance their listening experience without delving into detailed equalizer settings. Additionally, the application enables users to create their own sound profiles, saving their preferred equalizer configurations for easy access in different situations.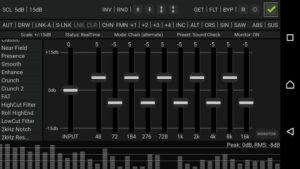 Audio Effects and Enhancements
RE Equalizer FX goes beyond traditional equalization by incorporating a range of audio effects and enhancements. Users can apply audio effects such as reverb, surround sound, and virtualization, creating a more immersive and engaging listening environment. Furthermore, the application offers a powerful bass boost feature, allowing users to amplify the low-frequency response for a richer and more impactful audio experience.
System-wide Integration
RE Equalizer FX seamlessly integrates with various audio applications and media players on your mobile device. Whether you're listening to music, watching videos, or using other audio-based applications, the equalizer settings can be applied system-wide, ensuring consistent sound enhancement across different platforms. This integration enhances the overall audio quality and makes the application a versatile tool for any audio-related activity.
Conclusion
RE Equalizer FX provides a user-friendly and customizable audio equalization experience on mobile devices. With its intuitive interface, adjustable equalizer bands, presets, and audio effects, the application enables users to enhance and personalize their audio output according to their preferences. Whether you're an audiophile or a casual listener, RE Equalizer FX offers a comprehensive solution for optimizing sound quality and creating an immersive listening experience on your mobile device.
Visit Also :
You are now ready to download RE Equalizer FX for free. Here are some notes:
Please read our MOD Info and installation instructions carefully for the game & app to work properly
Downloading via 3rd party software like IDM, ADM (Direct link) is currently blocked for abuse reasons.
What's New
- Compressor / Amplifier effects
- More custom presets and sound improvements
- Global Gain option added to fix Gain issues on some devices
- Balance feature added (for Android 9 or above)
- Assign presets to Wired / Bluetooth Connections
- Background Start option added to Settings
- Fixed Bugs/Issues
This app has no advertisements
Screenshots
Downloads
Older Version