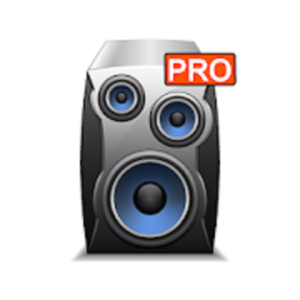 Tone Generator
Tone frequency generator for sound engineers and musicians
Features:
– Sweep tone generator (linear or logarithmic for musicians)
– Function generator
– Rock solid, double precision, real time, accurate, wave generator (64-bit precision IEEE 754 floating point engine)
– Real time manual frequency increment or decrement (accurate, without pops and clicks)
– Loops (continuous, with no lag, no clicks)
– Amplitude modulation
– 8 tracks real time multi-tone generator
– Ultrasound generator (on a 48KHz DAC)
– White noise generator
– Pink noise generator
– Save favorite tones and sweeps in a list for future use
– Generate audio files
– Precise left/right channel volume control
– Precise fade in and fade out time configuration
– Possibility to invert one channel for cancellation effects.
– Many, many pre-programmed sound tests, ready to be used by the sound professional
What you can do with this app:
– Speaker tests
– Fine tune an audio system
– Create relaxation and meditations sounds
– Noise mask
– Sleep inducing with pink noise
– Find your Tinnitus frequency.
– Age hearing loss test.
– Learn many facts about sound
– Your imagination is the limit!
PERMISSIONS:
To save audio files to your device, the app needs the generic android permission( access photos, media, and files on your device)
This app has a free 7 days trial period that let you check the value of this app. Than you can upgrade to Pro without having to install another app. Please support Android app development !
Whats New:
No changelog
PRO features unlocked
Screenshots
Downloads
Older Version
Tone Generator v2.89 APK [Pro] / Mirror