Is your battery draining too quickly? Do you simply want to know how much time you have left before you need to recharge? Then GSam Battery Monitor to the rescue!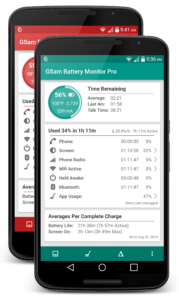 Features
• Hunt down those battery draining Apps with the App Sucker
• Always know your battery state and time left estimates with a optional status bar notification
• Overlay the stock battery icon with the icon pack add-on.
• Dig deep into how an App uses your battery – including wakelock details
• Sort your app suckers by things such as CPU & sensor usage, app wakelocks, wake time, and kernel wakelocks.
• Set a custom time reference to see stats over a certain period of time.
• See time remaining estimates based on current and historical usage
• See historical averages for battery life, screen on time, and Doze time – how long does your battery usually last?
• Add a widget to your home screen showing the battery status and time remaining
• Include all sorts of great battery information in your DashClock widget using the included DashClock Extension
• Download or create your own icon themes
• Set customizable alarms for various charge states, temperature, and battery health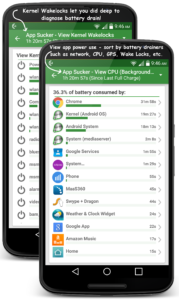 The Professional Edition also includes:
• Optimized views for Tablets or other devices with large screens.
• More accurate time remaining estimates for devices such as tablets with long standby times.
For more information including instructions on creating your own Icon Packs, see:
http://badassbatterymonitor.blogspot.com
NOTE: Please email me if you encounter any issues with this app.
Permissions: Please see the users-guide for a full explanation of the permissions that GSam Battery Monitor requires: http://badassbatterymonitor.blogspot.co … ermissions
Translations:
• Russian (Thanks to Dmitry Chernogaev)
• French (Thanks to Jaworski Johan)
• Italian (Thanks to Fabio Abbà)
• Hungarian (Thanks to István Kriskó (Stefi))
• Czech (Thanks to Matěj Trakal)
• Swedish (Thanks to Pontus Edgren & Göran Helsingborg)
• Dutch (Thanks to ArTsLeOpS)
• Hebrew (Thanks to Michael Sandler)
• Chinese (Thanks to Gavin Fang)
• Turkish (Thanks to Saldıray Günal)
• Polish (Thanks to cvxcvx)
• German (Thanks to Jan Fortein)
• Spanish (Thanks to Carlos Salazar & Broquen)
• Ukrainian (Thanks to Yaroslav Brukh)
• Portuguese (Thanks to João Ricardo)
• Traditional Chinese (Thanks to Andy)
• Armenian (Thanks to Hrant Ohanyan)
• Catalan (Thanks to Josep Rey Cases)
• Slovak (Thanks to Pavol Šrank)
• Serbian (Thanks to Милован Кушаковић)
• Finnish (Thanks to Sami Kuusisto)
• Interested in translating? See https://github.com/GSamLabs/gsam-battery-monitor-translation
WHAT'S NEW
3.44
✔️ Add support for Android 13
✔️ Fix Android 13 Notifications – Enable via Preferences
This app has no advertisements
Screenshots
Downloads
GSam Battery Monitor Pro v3.44 build1903440 APK [Patched] MOD / Mirror
Older Version
GSam Battery Monitor Pro v3.43 build 1903430 APK [Patched] MOD / Mirror
GSam Battery Monitor Pro v3.42 build 1903420 APK [Patched] MOD / Mirror